ADASS ISRAEL CONGREGATION
PUBLIC STATEMENT
The Adass Israel Congregation, a community founded by Holocaust-survivors, joins worldwide Jewry in publicly denouncing the nefarious and totally irresponsible handful of Jewish charlatans, who attended the recent "Holocaust-denial" conference of Jew-haters in Teheran.
These individuals who have been depicted in local and international media embracing fanatical anti-Semites bring shame and pain to our people.
We hereby reiterate and declare that Charedi/Chassidic/Orthodox Jews everywhere are disgusted and repelled by the treacherous and contemptible conduct of this deranged and reviled group of misfits and Mechallelei Hashem [desecraters of G-d's Name], who in their boundless and obsessive craving for publicity habitually raise their ugly heads and besmirch the reputation and honour of all observant Jews. We join communities the world over in denouncing them and fully endorse and applaud the severe sanctions and sharp condemnations that have been issued by every single major Charedi community in Jerusalem, New York, Antwerp, London and Manchester.
Under no circumstances, should the behaviour of this rabble be associated with any other organisation or person. Nor should their garb and their calling themselves "rabbis" deceive anyone. In fact, they are an insignificant group of unemployed parasites, who represent nobody but themselves. They were ejected, for similar activities, decades ago from their local Shuls and communities. Regrettably this has not halted their ongoing treacherous behaviour and associating with our enemies, thus embarrassing and harming the reputation of Orthodox Jewry. They have persistently and blatantly ignored the demands and rulings of Rabbis and community leaders who have no control over them.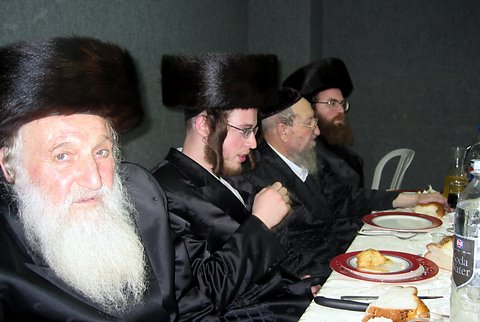 The Adass Israel community, which is made up of first, second and third generation Holocaust-survivors, cannot ignore, and will never forgive, the desecration of the memory of our Kedoshim by these self-hating Jews. We too call upon organisations and individuals everywhere to do all in their power to shun these pathetic individuals.
Melbourne, Chanukah 5767