Jewish schools are set to become the main beneficiaries of a $20-million security plan announced by Kevin Rudd in Sydney on Friday.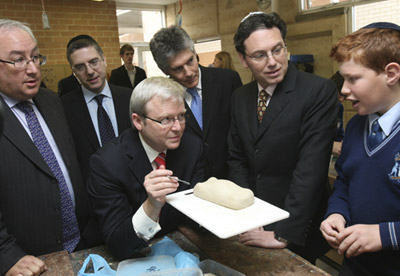 Rudd, together with his education spokesman Stephen Smith, also offered an extra $16 million in general funding to Jewish schools and committed to the Howard Government's changes to the socioeconomic status (SES) funding appeals process.

The joint announcement came on a red-letter day for Labor, which is also set to benefit from the Greens' announcement on Friday it will hand preferences in the key seat of Wentworth to ALP candidate George Newhouse, who was present for the funding announcements at Sydney's Moriah College.

Rudd told the gathered media that if elected, the ALP would assist any school with a particular security risk, but emphasised the funding is for "predominantly the Jewish schools".

"This will be funding which will be available immediately. We are very conscious of the particular needs of the Jewish community in regard to security," Rudd said.

"We are not talking about regular acts of vandalism, because they occur at schools right across the country, [but] where because of national security considerations there are particular threats to particular school community, we believe nationally we have a responsibility to act."

Smith added that a Rudd government would fund security so that Jewish schools would not have to direct resources away from education.

"We would actually [prefer] the schools to be spending money on educational outcomes and so those schools which are assessed to be at risk will be eligible to apply for assistance," Smith said.

Member for Melbourne Ports Michael Danby, Australia's only Jewish federal MP, made the trip to Sydneyfor the important announcement. Danby has been lobbying against the government's controversial SES system, which disadvantages some "poorer" Jewish schools, for nearly 10 years.

"The announcement today is, as far as I am concerned, the biggest political achievement I have been involved in since being elected in 1998," Danby said.

Last week, Federal Education Minister Julie Bishop announced an amendment to the SES funding appeals process, which the Coalition has promised Jewish schools it would address for almost a decade. The Howard Government also announced a plan that will see donations towards funding Jewish community security become tax-deductible.

The security spending announcement was followed by confirmation that a Labor government would support the government's amendment. Under the new appeals process, Jewish schools have already begun to appeal their SES rating based on a calculation that will take family size into account.

In addition, Labor said it would also throw an extra $4 million per year for the next four years in the direction of the Jewish schools, particularly ultra-Orthodox schools such as Kesser Torah College in Sydney and Yeshivah-Beth Rivkah Colleges and Adass Israel School in Melbourne.