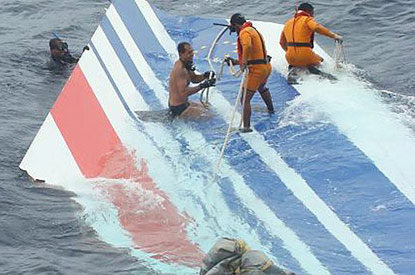 Two passengers with names linked to Islamic terrorism were on board the Air France flight which crashed and killed 228, it emerged today.
French secret service staff established the connection while working through the list of those who boarded the Airbus 330-200 in Rio de Janeiro on 31 May.
Flight AF447 crashed in the mid-Atlantic en route to Paris during a storm. While it is certain there were computer malfunctions, terrorism has not been ruled out.
Soon after news of the crash, agents from the Direction Générale de la Sécurité Extérieure, the French equivalent of MI6, were sent to Brazil.
They established that the two passengers were on highly-classified French documents listing radical Muslims considered to be a threat.
A security service source said the link was "highly significant".
Agents are trying to establish dates of birth and family connections of the two passengers. The source said there was a possibility the name similarities were a "macabre coincidence" but they were still being "taken very seriously".
France has received threats from Islamic terrorist groups in recent months, especially since it sent troops to Afghanistan.
Security chiefs were worried about airborne suicide attacks similar to the 9/11 strikes on New York.
Investigators today refused to rule out terrorism, but an Air France spokesman said "all the indications" were that the plane suffered some kind of catastrophic equipment failure.
A French nuclear submarine, the Emeraude, and a ship with robot submarines should reach the site by tomorrow night.
On Monday a Brazilian crew found the tail fin, which could narrow the area where the data recording black boxes may be.
A total of 41 bodies have been recovered from the crash zone 700 miles off Brazil's north-east coast.
Officials are using DNA samples and dental records to identify the remains.
Original piece http://www.thisislondon.co.uk/standard/article-23705905-details/Terrorist+suspects+were+on+doomed+Air+France+plane/article.do