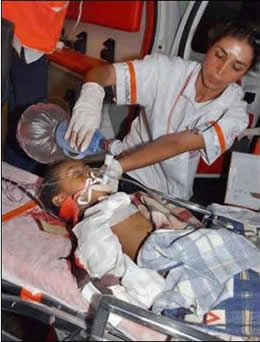 As self-righteous uproar against Israel rises in Britain over Mossad's supposed use of stolen British passport identities for the hit-squad which assassinated senior Hamas operative Mahmoud Mabhouh, one or two solitary voices have been trying to introduce a little realism into this latest excuse for frighteningly unhinged Israel-bashing (see the newspaper comment threads, from the moment Dubai published the passport details, for the eruption of a hatred that seizes any and every opportunity to give vent to this bigotry). Tom Gross (who has circulated the picture above of one of Mabhouh's victims, a child murdered by a Hamas missile in Sderot) has written an excellent
resumé
of the madness (
this article
being a notable exception), pointing out that much of the British media in particular has jumped to the conclusion that this was indeed a Mossad operation even though there is a possibility that Israel may have been set up.
Some of this coverage surely amounts to incitement to racial hatred. Douglas Murray draws attention here to the astonishing suggestion broadcast on BBC Radio Four's PM programme that
up to one million Jews worldwide might be on hand to assist Mossad in executions
a claim which turns every Jew in the diaspora into a potential suspected killer and thus a target for hatred and violence. In my view this claim should be brought to the attention of the Director of Public Prosecutions.
If the Dubai hit was a Mossad operation, it would appear at first blush to have been remarkably incompetent; since the Mossad would obviously have realised that their every move was being recorded on Dubai's omnipresent security cameras, to have laid a trail to lead straight back to Israel like this appears bafflingly sloppy. And to use the identities of people now living as immigrants in Israel is perplexing.
On the other hand, the Jerusalem Post reports that Israel had very good reason for wanting Mabhouh dead, so much so that it may have factored in the all-too likely repercussions:
A diplomatic fallout with London, caused by the use of forged UK passports, seems a very real possibility if UK authorities officially blame Israeli intelligence for the Dubai slaying. But such a development would surely have been factored into any decision to take Mabhouh out. The diplomatic friction now building up would have been deemed bearable before any go-ahead was given for the killing....According to reports, Mabhouh oversaw the smuggling of Iranian long-range rockets into Gaza, enabling Hamas to threaten the densely populated Gush Dan region, home to more than three million Israelis and the scene of the country's financial hub.
Only in Britain could the eradication of someone who was planning to murder untold numbers of innocents (Tom Gross reports he was apparently en route to procure Iranian missiles capable of hitting Tel Aviv from Gaza) be deemed worthy of censure by western hypocrites. If, apart from eradicating a terrorist before he could further assist mass murder, the operation was intended to give a message to bad guys everywhere that they will be successfully hunted down, it was a striking success for whoever carried it out – so much so that if Israel was not behind this, it would undoubtedly want its enemies to think that it was. As for the British and Irish passport-holders whose identities were purloined for the hit:
... the olim [immigrants] who found their names on the Dubai police's wanted list will not encounter great difficulties in clearing their names, since most of the details in the forged documents were changed from the originals. The assassins apparently went to great lengths to ensure that the olim could distance themselves from the incident, changing passport numbers, inserting bogus middle names and altering dates of birth.

... The Gulf state, keen to preserve its name as a neutral financial haven, free from the violent woes that afflict other parts of the Middle East, has gone out of its way to try and embarrass the assassins and those who sent them. Such efforts, presumably, would have been foreseen by the mission's planners as a possible outcome, and deemed acceptable.
Certainly, Dubai seems to have gone to great lengths to incriminate Israel. Why, after all, did it publish the passport details like this? If it wanted to catch the real agents, this was hardly going to advance this aim for which it obviously needed merely to go through the usual channels of inter-state police and intelligence agencies. Dubai is now going out of its way to point the finger at Israel, with its police chief Dahi Khalfan Tamim calling upon Interpol to issue a 'Red Notice' to arrest the head of Mossad.
There are many unanswered questions arising from Dubai's claims. It is possible that Israel was responsible alone for this operation; it is possible that it was not involved and it is being set up; it is possible that Mossad was one of a number of state actors which are now setting up Israel alone to take the rap. Who knows?
Only the British media, it seems, for whom Israel is always guilty of bad deeds.