Although outwardly more liberal than the Saudis, the Qataris have surpassed them as financiers of extremism and terrorism.
U.S. officials reckon that Qatar has now replaced Saudi Arabia as the source of the largest private donations to the Islamic State and other al-Qaeda affiliates.
Qatar, the world's wealthiest country per capita, also has the unsavory reputation for the mistreatment and effective slavery of much of its workforce.
Leaders of Western states threatened by jihadi advances are happy to sit down with the largest financiers of terrorism in the world, offer them help, take as much money as they can, and smile for the cameras.
There is a central weakness in the coalition against the Islamic State [IS] in Syria, as pointed out by Bryan Bender in the Boston Globe. There are 62 members of the coalition, some of which are Arab states: Saudi Arabia, the United Arab Emirates, Jordan, Bahrain, Iraq, and Qatar. The U.S., however, carries the greatest weight in the air campaign against the self-proclaimed Caliphate. America had carried out 3,589 sorties by August 8, its partners 8; between September 23 (when most partners joined in attacks) and November 3, U.S. sorties numbered a further 3,320, with 1,090 by other coalition members.
The U.S., therefore, flies over 75% of missions -- an indication of American intent? It's not quite that simple.
One of those partners, Qatar, seems to be committed to the mission in other ways. It hosts the largest U.S. military base in the Middle East, the regional headquarters of U.S. Central Command, and stations American and British aircraft and personnel at al-Udeid Air Base.
The U.S. Congress has authorized and appropriated many millions of dollars over the years in return for use and maintenance of this important base.[1]
Qatar is now prepared to pay in full for the U.S. military presence during the campaign in return for American protection.[2]
Except, as a recent headline in the New Republic put it: "Qatar Is a U.S. Ally. They Also Knowingly Abet Terrorism. What's Going On?" Other views are harsher: "Qatar's overall cooperation, however, is the worst in the region."
Qatar is one of the world's smallest states with a miniscule population. A Saudi prince once said that it is made up of "300 people and a TV Channel" (referring to Al Jazeera, based in the capital, Doha). Qatar has only 278,000 citizens and 1.5 million expatriates who make up 94% of the workforce. Qatar, the world's wealthiest country per capita, also has an unsavory reputation for the mistreatment and effective slavery of much of its workforce.
Qatar is also imprisoning Matthew and Grace Huang, an American couple sentenced to three years in prison on charges of child endangerment, for allegedly murdering their adopted daughter, Gloria, 8, even though she apparently had health issues prior to the adoption. The Huangs continue to protest their innocence, and claim that the Qataris do not understand how an Asian couple could adopt three children, who happen to be black, from Africa.
Given Qatar's economic and political clout, created by its sovereign wealth fund, its oil, and its ownership of the world's third largest natural gas reserves, Qatar plays a role on the world stage and does much to enhance its public image. In a bid for international kudos, the emirate acted to ensure the award of the soccer World Cup for 2022, only to find itself mired in controversy.
In other spheres, Qatar is the single largest donor to the Brookings Institution, a major U.S. think tank. Payments included $14.8 million after the former U.S. Ambassador to Israel, Martin Indyk, blamed Israel for the failure of the latest round of Israeli-Palestinian peace talks; and it has given money to many universities in the U.S. and Europe.[3] Qatar also hosts eight international university campuses near Doha (Virginia Commonwealth, Weill Cornell, Texas A&M, Carnegie Mellon, Georgetown, Northwestern, HEC Paris, University College London, Calgary), and finances the RAND Policy Trust. It owns expensive properties in London, the Barcelona Football Club, and dabbles in other areas worldwide.
While all this increases Qatar's influence, most of it seems to be for show, to present an amiable face to the world. Qatar is not all gleaming towers, bars for non-Muslims, and a modern approach to sexual relations. It remains the only other Wahhabi country in the world next to Saudi Arabia. The problem here is the Qatar paradox. Although outwardly more liberal than the Saudis, the Qataris have surpassed them as financiers of extremism and terrorism. As with its neighbor, it is traditional, devoted to a highly conservative form of Islam, and an underlying commitment to Islamic values.
Although praised for its liberalism in many areas, Freedom House reported in 2013 that "civil liberties and political rights are severely restricted for residents and citizens alike, foreign workers face especially repressive conditions." Aside from a short period between 1976 and 1988, Qatar has remained categorized as "Not Free" since 1972, and has a particularly bad reputation for its brutal treatment of poor foreign workers.
Although non-Muslims are free to worship there, Qatari law bans any form of proselytization or outward show of faith (such as crosses on churches). There are severe laws against homosexuality, adultery (technically a capital crime, with provisions for flogging and stoning), and public criticism of the regime. As of 2011, the Democracy Index describes Qatar as an "authoritarian regime" with a score of 3.18 out of ten, and it ranks 138th out of the 167 countries covered.
Nowhere is this tendency clearer than in Qatar's support for international networks of terrorist organizations. While U.S. planes bomb outposts of ISIS from their Qatar airbase, Qatar is reputed to be sending money to ISIS, Hamas, Libyan jihadists, and others. Of course, the Qataris deny this. Standing beside German Chancellor Angela Merkel on September 27, Qatar's Emir Tamim bin Hamad al-Thani declared that, "What is happening in Iraq and Syria is extremism and such organizations are partly financed from abroad, but Qatar has never supported and will never support terrorist organizations".
Clearly, al-Thani either knows little about the country he rules or is trying to put one over on the world. One is reminded of how, after Black September's 1973 murders of three diplomats (two American and one Belgian) in Khartoum, the PLO "privately... threatened reprisal if the Sudanese continued to hold them [the killers] or put them on trial," while publicly disavowing the killings.[4]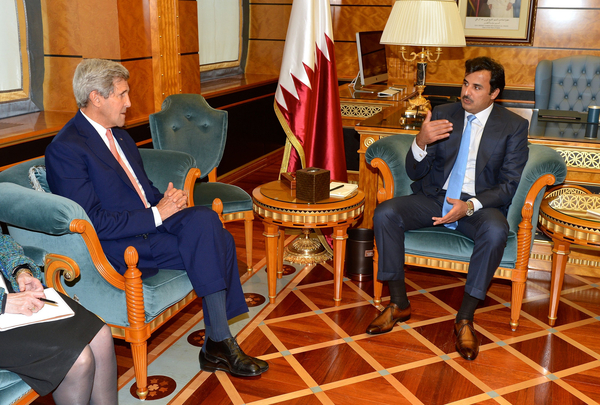 Qatar finances terrorists with one hand, while the other joins hands with the West. Above: U.S. Secretary of State John Kerry meets with Qatari Emir Tamim bin Hamad al-Thani in New York City on September 25, 2014. (Image source: U.S. State Department)
The fundamentalist anti-Semitic Islamic preacher, Shaykh Yusuf 'Abd Allah al-Qaradawi, regarded by many as the leading scholar of the Muslim Brotherhood, has been living in Qatar on and off since the 1960s, while preaching a fundamentalist and often pro-terrorist message there through his website, Islam Online, and his Shari'a and Life television show on Al Jazeera. The Qatari government has never sought to rein him in.
Qatar's major international charity, the Qatar Charitable Society (now simply Qatar Charity) has acted as a financier and agency for terrorist outfits in several countries. It has funded al-Qaeda in Chechnya, Mali and elsewhere, was a key player in the 1998 bombings of U.S. embassies in Kenya and Tanzania, and funded Syria's Ahfad al-Rasul Brigade. Qatar has also financed terrorists in northern Mali operations, including Ansar Dine, alleged to be linked to al-Qaeda in the Islamic Maghreb [North Africa]; and it retains contacts with (and no doubt still funds) al-Qaeda.
According to David Blair and Richard Spencer, writing for London's Daily Telegraph, four branches of the Qatari government handle relations with armed groups in Syria and Libya. These are the Foreign and Defense Ministries, the Intelligence Agency, and the personal office [al-Diwan al-Amiri], of the Emir, who, as we have seen, flatly denies financing terrorism. The Amiri Diwan, as in Kuwait, appears in the lists of government ministries and offices.[5] Of course, Qatar does nothing directly. It prefers to use middlemen and to permit private individuals to do the work for it. Large sums are passed to middlemen in Turkey (itself no stranger to support for terrorism), and this money is used for the purchase of weapons from other countries (notably Croatia). The weapons are then transferred to rebel groups in Syria. It has also been claimed that money owed to British companies operating in Qatar has been siphoned off to Islamic State. This may require some ingenious application of the dark arts of bookkeeping, but it does provide another means of evading condemnation of the state.
One of the most obvious examples of government support for jihadi groups is that the international base of the Gazan terrorist group Hamas has been located in Doha since 2012. Khaled Mashaal, Chairman of Hamas's Political Bureau, is reportedly living an opulent lifestyle in a five-star hotel in Doha. Qatar has given generously to Hamas. In October, Ma'mun Abu Shahla, the Palestinian Authority's Minister of Labor, stated that the government of Qatar had given $30 million to provide staff with their first salary payments in several months, a distribution of largesse that will give half of the former Hamas government employees in Gaza their unpaid wages. This payment was arranged with Qatar by Robert Serry, the UN special coordinator for the Middle East peace process, despite fears of a backlash from international donor countries, including the U.S., which considers Hamas a terrorist organization.
Apart from cash advances to terrorist entities, the Qatari government seems to be directly involved in other activities, notably the shipping of planeloads of arms to Libyan jihadists. These shipments include a C-17 cargo plane carrying weaponry to a militia loyal to a warlord who had fought alongside Osama bin Laden; arms supplies to the jihadist coalition that now controls Tripoli after the launch of Operation Libya Dawn, and some $3 billion and 70 planeloads of arms to rebel forces in Syria.
Private fundraisers who coordinate donations from individual or corporate donors in Qatar are never detained or subjected to restrictions in Qatar, a privilege that means the transfer of considerable sums to al-Qaeda, Islamic State, Hamas, Jabhat al-Nusra and other Syrian Islamist groups.
The U.S. Treasury has given details of terrorist financiers operating in Qatar. The best known is 'Abd al-Rahman al-Nu'aymi, an academic and businessman who is a key link between Qatari donors and al-Qaeda in Iraq, the predecessor of today's Islamic State. At one time, Nu'aymi transferred $2 million per month to the organization. He has also sent around $576,000 to Abu Khalid al-Suri, al-Qaeda's Syrian representative, and $250,000 to the Somali jihadist group, al-Shabaab.
The U.S. Treasury Department has sanctioned Nu'aymi and other Qatari financiers in recent years. U.S. officials reckon that Qatar has now replaced Saudi Arabia as the source of the largest private donations to Islamic State and other al-Qaeda affiliates. The Qatari government has taken no steps to detain or punish al-Nu'aymi or anyone else, even though Islamist politics are, in theory, illegal in Qatar.
British Prime Minister David Cameron was warned by many people, before his meeting with the Emir of Qatar, that he had to tackle the issue of Qatar's funding of terrorism. The two men met on October 29. Here is part of the official government news briefing on the meeting:
On international affairs, they discussed the role both countries are playing in the coalition to tackle ISIL, and the importance of all countries working to tackle extremism and support to terrorist organisations. The Prime Minister welcomed the recent legislation passed in Qatar to prevent terrorist funding and looked forward to the swift implementation of these new measures. They also agreed that both countries should do more to share information on groups of concern.
Need one add that among the matters discussed by these world leaders was Qatar's recent £20 billion investment in the U.K., and Cameron's offer of British expertise in construction to assist the Emirate in building the 2022 World Cup events? Money talks, and in supine Western countries just coming out of a major recession, it talks very loudly. Al-Thani walked away from his meeting with Cameron covered in glory for his country's supposed work to defeat Islamist terrorism worldwide.
Leaders of Western states threatened by jihadist advances are happy to sit down with the largest financiers of terrorism in the world, offer them help, take as much money as they can, and smile for the cameras. They then sell their publics for crumbs from oil-rich monarchs who watch, wreathed in smiles, as the West abases itself out of greed and a total lack of concern for the human rights issues that dog these sheikhdoms in almost everything they do. The Qataris have money, they have power and influence, and they have an abiding love for fundamentalist Islam. They know what they are doing and they wait for their day to come.
Denis MacEoin is a former lecturer in Arabic and Islamic Studies and a Distinguished Senior Fellow at the Gatestone Institute.
---
[1] Here is a short list of these payments: From FY2003 to FY2007, Congress authorized and appropriated $126 million for U.S. military construction activities in Qatar. The National Defense Authorization Act for Fiscal Year 2008 (P.L. 110-181) authorized $81.7 million in FY2008 spending to build new Air Force and Special Operations facilities in Qatar. The National Defense Authorization Act for Fiscal Year 2009 (P.L. 110-417) authorizes $69.6 million in FY2009 spending to build new Air Force and Special Operations facilities. The National Defense Authorization Act for Fiscal Year 2010 (P.L. 111-84) authorizes $117 million in FY2010 spending to build new Air Force recreational, dormitory, and other facilities at Al Udeid. The Administration's FY2011 military construction request for Qatar was $64.3 million, for Air Force facilities and a National Security Agency warehouse. The FY2012 request includes $37 million to continue the dormitory and recreation facility project. See "Congress Appropriations and Authorizations", in "Al-Udeid Air Base," Wikipedia.
[2] "Qatar says ready to pay 'in full' for US military presence: Amr Moussa," Press TV, 1 December 2012 (accompanied by many condemnation of Qatar for doing so).
[3] For some details about its donations to the UK, see Robin Simcox, "A Degree of Influence", London, The Centre for Social Cohesion, 2009.
[4] Joshua Muravchik, Making David into Goliath, New York, 2014, p. 49, citing David Korn.
[5] See also State of Qatar Ministry of Interior, "Ministries".