Hamas: 'Despair' Is Not the Reason for Palestinian Violence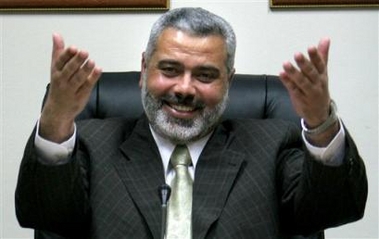 Ismail Haniyeh

Murderous attacks against Israelis by Palestinian Arabs are not the result of despair, according to Ismail Haniyeh, the leader of Hamas, the U.S.-designated terror group that rules the Gaza Strip.
According to Israel Hayom, Haniyeh declared in a speech at a rally on Jan. 19, 2016:
"This intifada is not the result of despair. This intifada is a jihad, a holy war fought by the Palestinian people against the Zionist occupation. Only a holy war will drive the occupier out of Palestine."
Haniyeh's statement contradicts a common news media assertion that is frequently embraced also by politicians, policymakers and activists.
As CAMERA has noted, many major U.S. news outlets have alleged that Palestinian terror attacks are the result of "disillusionment" or "despair" supposedly brought about by a lack of a Palestinian state and/or existence of Israeli settlements ("Washington Post Obscures the Obvious—Palestinian Hatred of Jews," Oct. 21, 2015). Many reports or commentaries written from this perspective omit Palestinian rejection of several U.S. and Israeli offers of a two-state solution in exchange for Palestinian-Israeli peace, including those made in 2000, 2001 and 2008. Such coverage also overlooks the many troubling statements made by Palestinian Arab leaders that make clear why they incite attacks against Israelis: a hatred of Jews and of a Jewish state.
Haniyeh's statements run counter to those of figures such as U.N. Secretary General Ban Ki-moon who—amid Palestinian terror attacks against Israelis—cited Palestinian "youth" who "suffer in hopelessness" as a principal cause ("Israel-Palestinian Violence: U.N.'s Ban Ki-Moon Jets to Region Amid Tensions," NBC News, Oct. 20, 2015).
A 2015 report by the European Union—which recently has enacted discriminatory labeling of Israeli goods produced in West Bank Jewish communities—asserted that the "root causes" of the terror attacks are the "lack of economic and political prospects" for Palestinian Arabs. Yet, the actual cause-and-effect cycle has been Palestinian rejection of opportunities to negotiate political prospects, followed by intensified terrorism, followed by Israeli restrictions, including, on employment in Israel.
Some commentators who claim to be pro-Israel also have asserted that despair is a principle driver of Palestinian violence. Responding to Palestinian assaults and murders, commentator Peter Beinart claimed "the Israeli government is reaping what it has sowed" because Palestinian terrorism is a "demented response to Israel's denial of basic Palestinian rights."
The Hamas leader's call for a holy war is little different from that of previous Palestinian Arab leaders, such as the Grand Mufti of Jerusalem, Haj Amin al-Husseini, who formed the Army of the Holy War to attack the fledging Jewish state in 1948. Husseini's collaboration with Nazi Germany in World War II included recruiting Bosnian Muslims for SS units considered responsible for war crimes by Yugoslavia. Palestine Liberation Organization (PLO) head Yasser Arafat invoked pan-Arab or pan-Islamic slogan and imagery against Israel and Jews as he deemed expedient.
Nor does today's Hamas rhetoric noticeably differ from the rhetoric endorsed by the Palestinian Authority (PA) and its dominant Fatah movement that oversees daily life for virtually all Arabs in the West Bank (Judea and Samaria). As CAMERA has noted, both Fatah and PA officials have called for war against Israel (see, for example, Fatah's Constitution).
Haniyeh's statement should have struck journalists as "man-bites-dog," that is, newsworthy. But the outright dismissal of the "despair" narrative from a Palestinian leader may not be recognized as such yet. Such is the blinding power of a conventional, though false narrative.