Friday 27 October 2017 00.24 AEDT Last modified on Friday 27 October 2017 08.00 AEDT
A woman has been convicted of helping her husband prepare to carry out a terror attack after buying a large combat knife.
Ummariyat Mirza and Madidah Taheer practised carrying out a knife attack at their home in Birmingham.
Police believe the attack would have most likely taken place in the West Midlands, but say it could have happened anywhere.
Taheer, 21, was convicted at Woolwich crown court in London on Thursday of preparing an act of terrorism. Her husband pleaded guilty to the charge at an earlier hearing.
In 2015, before they were married, Taheer sent Mirza a message that read: "Can we get married already ffs. I want u to kill ppl for me. I have a list."
Mirza replied: "The day of nikkah [marriage] I'll kill em all. Give me the list. The only thing that stops me is we are not married. I will defo I'm not joking."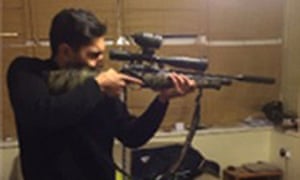 The prosecution said these exchanges showed they were inspired by the Islamic State terror group.
After the conviction, Det Ch Supt Matt Ward, the head of West Midlands counter-terrorism unit, said: "Earlier this year we received information that they were planning to carry out a terrorist act in the UK.
"We were able to establish that they were in advanced stages of preparation. We think that they had radical extreme views for some time – back to 2015. This year they have accelerated that extremism. They had purchased a training knife to carry out a practice of the attack.
"They then bought a large hunting knife that you conceal in clothing in order to carry out an attack. We had two guilty pleas and a guilty verdict because they were sharing extremely vile and disturbing extremist material.
"We are confident that, had we not intervened when we did, they would have carried out an attack.
"The attack probably would have taken place in Birmingham or the West Midlands – but it could have been anywhere in the UK."
The couple – along with Mirza's sister, Zainab Mirza, who previously admitted sending him terrorist material – will be sentenced later.