Eight people have been killed and at least 11 injured in an "act of terror" after a man drove a pick-up truck onto a path for cyclists in New York city.
The 29-year-old driver of the truck was shot by police in the abdomen and taken into custody after he crashed the truck into a school bus and fled his vehicle, according to New York City Police Commissioner James O'Neill.
Speaking at a press conference, New York Mayor Bill de Blasio said the attack was "a particularly cowardly act of terror".
The mayor said: "It's a very painful day in our city. Horrible tragedy on the West Side.
"Let me be clear, based on the information we have at this moment, this was an act of terror and a particularly cowardly act of terror. Aimed at innocent civilians, aimed at people going about their lives who had no idea what was about to hit them.
"We at this moment based on the information we have, we know of eight innocent people who have lost their lives. And over a dozen more injured."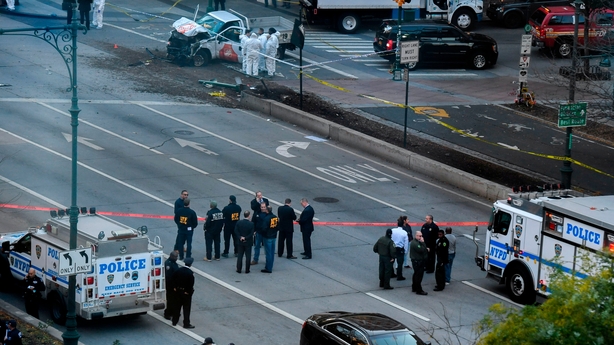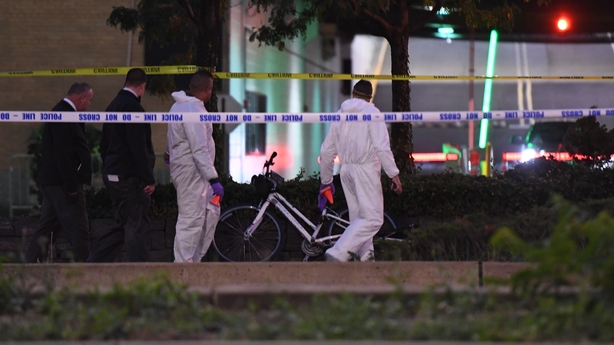 Mr O'Neill said the driver was armed with a paintball gun and a pellet gun.
The driver hit a school bus, injuring two children and two adults on board before exiting the pick-up truck.
The man was shot in the abdomen by a uniformed officer before being taken into custody.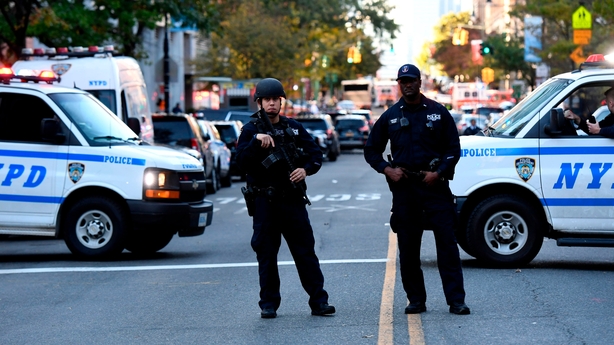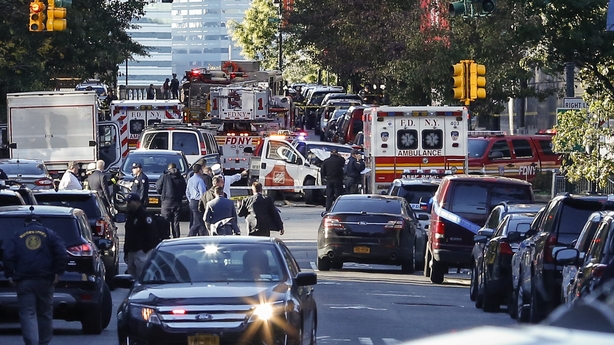 The commissioner said a statement made by the suspect when he exited the vehicle was "consistent" with a terrorist attack.
New York Governor Andrew Cuomo said there was no evidence to suggest a wider plot or wider scheme.
US President Donald Trump said the attacker was "very sick" and a "deranged person".
British Prime Minister Theresa May tweeted: "Appalled by this cowardly attack, my thoughts are with all affected. Together we will defeat the evil of terrorism. UK stands with #NYC."
A police spokesman posted a photo showing a white pick-up truck on the bike path with its front end mangled and the hood crumpled.
The rented truck had logos of the Home Depot hardware store chain.
Mangled and flattened bicycles littered the bike path, which runs parallel to the West Side Highway on the western edge of Manhattan along the Hudson River.
One witness told reporters at the scene that he heard about five gunshots before seeing a large man being taken into custody.
"He seemed very calm," the witness said. "He was not putting up a fight."
A witness told ABC Channel 7 that he saw a white pick-up truck drive south on the bike path at full speed and hit several people.
A video apparently filmed at the scene and circulated online showed scattered bikes on the bike path and at least two people lying on the ground.