Whatever line of work you're in, imagine your main rival is really bad at their job. Really, embarrassingly bad. Took a big gamble and almost lost everything. Can't explain what they're doing. Lost the support of a big chunk of their workers. Most of their top team have resigned in protest. Bumbling along to near-certain, humiliating failure.
And imagine they were still seen as better than you. Welcome to Jeremy Corbyn's world.
The leader of the official opposition – as opposed to Jacob Rees-Mogg as the leader of the unofficial opposition on the Tory benches and Arlene Foster as the leader of the other opposition in the DUP – finds himself in the embarrassing position of being behind in the polls, with more people saying they'd vote for the Conservatives and more people think May would make a better PM.
When he arrives home and slips into his tracksuit late at night, that's got to hurt. Imagine not being able to beat this absolute shower in the polls. You get the feeling May could punch the Queen, ban gin and shut down Greggs and the country would still favour her over Magic Grandpa.
For months and months it has been a running joke that nobody knows what Labour's Brexit policy is. When Corbyn gave a speech setting it out in March the proportion of people who thought the policy was clear went down. Barry Gardiner, the shadow international trade secretary, summed up the party's six tests as "bollocks". It was a reputation that the party lived down to.
Remember this: oppositions are supposed to lead in the polls, especially when things go wrong for the government (which they often do).
In the months before the 1979 election Margaret Thatcher had a double-digit poll lead. In early 1981 Michael Foot had a ten-point lead over Thatcher before the Falklands helped turn things around for the Iron Lady. Neil Kinnock's Labour was ahead of the Tories throughout 1986, and again in 1990 and 1991.
Between 1994 and 1997 Tony Blair regularly had 30-point leads over the Tories. William Hague even managed to pull ahead of New Labour briefly in the autumn of 2000 during the fuel protests. You'd think the country facing political, economic, social and constitutional chaos at the hands of your opponents might give you a bit more of a lift than some people queueing for unleaded.
After the financial crash David Cameron's Conservatives opened up a lead of about 15 points over Gordon Brown in 2008, before the MPs' expenses scandal hit.
And Corbyn's Labour? The latest YouGov poll gave the Tories a four-point lead last week. And 35 per cent of people think despite everything, May would be the best prime minister, while just 24 per cent think Corbyn is the better person to run the country. Which is roughly the same proportion who think that it should be against the law to discriminate against vegans. (Let's be honest: they're probably the same people.)
What could possibly have given the public the impression that the Labour leader might not be up to the job? Yesterday gave us a perfect lesson.
The day began with talk that Labour was preparing to call a full vote of no confidence in the government which, under the Fixed-Term Parliament Act, if passed by the Commons would trigger a 14-day waiting period before a general election is automatically called. And then...
2.55pm Labour sources reveal that Corbyn is actually going to call for a vote of no confidence in the prime minister personally but not the government. If lost it would have no legal force, only the effect of embarrassing May but not triggering a general election. Labour's key demand? May must set a date for the Commons to vote on her deal.
3.42pm May sets a date for the Commons to vote on her deal, telling MPs that it will happen in the week of January 14, as was first reported by The Sun's Matthew Dathan last week.
3.50pm Corbyn is cross and says that a "responsible prime minister would have put the deal before the House this week". "This is a constitutional crisis," he adds, but then doesn't move a motion against her.
4.17pm Labour declares victory! The party tweets: "BREAKING: With the risk of a no confidence vote in her leadership, we have forced the PM to bring her botched Brexit deal back to Parliament." Hurrah! Corbyn supporters like Matt Zarb-Cousin claim May is "dancing to Corbyn's tune". Although as we all know May only dances to Abba's tune, and none of us wants to see that again.
5.52pm Labour declares defeat! Corbyn is back at the dispatch box to perform a U-turn with his typically Churchillian oratory: "It is very clear that it is very ... bad ... unacceptable that we should be waiting almost a month before we have a meaningful vote." He announces that he is now unhappy with the concessions he was boasting about an hour earlier, and he is in fact going to table a motion stating: "That this House has no confidence in the Prime Minister due to her failure to allow the House of Commons to have a meaningful vote straight away on the Withdrawal Agreement and framework for future relationships between the UK and European Union."
6.54pm Both the DUP and Steve Baker, deputy ringleader of Jacob Rees-Mogg's European Research Group circus, confirm they will vote against Labour's motion. The message: she might be a useless prime minister but she is our useless prime minister, now back off. Sir Vince Cable accuses Corbyn of "bottling the real vote the Commons needs".
In all it took four hours to go from an apparent threat to bring down the government to the humiliation of being accused of a lack of leadership by the leader of the Lib Dems.
Last night Downing Street refused to give time for Corbyn's motion to even be debated, daring the Labour leader to go the whole hog and have a proper confidence vote in the government instead, which the government is obliged to give time for.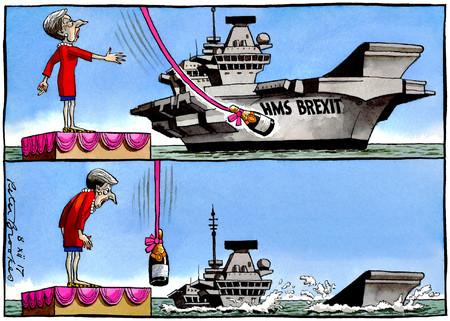 More problematic for Corbyn is his tortuous formulation of Labour's Brexit policy: officially he wants a general election first, and if not that then a second referendum.
So if he pushes for a full confidence vote and loses, most of his MPs and many more in his party expect him to switch to calling for a second referendum, something he has been desperate to avoid in order to keep left-wing Leavers onside.
There was more chuntering later about the Commons coming back early in January to start debating as soon as possible. You get the feeling that May could go the full Oliver Cromwell and scrap Christmas for the entire country and she would still extend her poll lead.