We wish to bring to your attention our great concern over the current situation of the Jewish Community of Venezuela.

Historically, the people of Venezuela welcomed with open arms immigrants from everywhere without any expression of xenophobia or racism. All ethnic and religious communities traditionally enjoyed peaceful co-existence at all times, and Venezuela's Jewish Community - dating from the days of Simon Bolivar – was no exception.

In the past, as today, several Venezuelan governments have expressed their solidarity with the Palestinian cause or the Palestinian people. However, since the events in Gaza that began on December 27 2008, the present government of Venezuela has adopted an aggressive and dangerous tone never previously heard, clearly inciting against the Jewish Community. The Government's supporters nationwide picked up on the Government's lead with clearly anti-Semitic expressions – with no effort whatsoever by Government to stop them. The expulsion of the Israeli Ambassador followed, and subsequently, a final breaking off of diplomatic relations.

Furthermore, there is a well-orchestrated campaign on TV, radio, print and Internet media owned by the government, openly questioning Israel's right to exist, even including publication of such anti-Semitic materials as The Protocols of the Elders of Zion. A group of pro-government journalists is urging the population to boycott businesses owned by Jews in Venezuela.

We ask all Jewish Communities worldwide to condemn this campaign against our brethren in Venezuela, and to ask their governments, their national and international Media to condemn this racism and anti-Semitism in Venezuela, which set a dangerous new precedent in Latin America.

Thanking you in advance for all your efforts,

CHAZAK VE' EMATZ - AM ISRAEL CHAI

OSCAR JAROSLAVSKY ROBERT CROITORESCU
General Secretary President

Below: Pictures showing anti-Semitic graffiti in Caracas.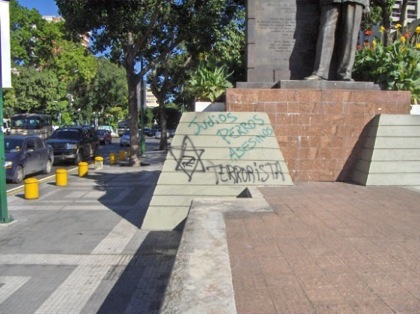 Jews, damn assassins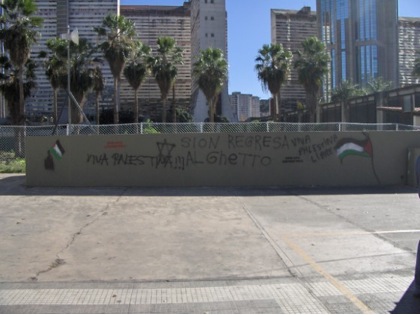 "Hail to Palestine – Zion: return to the ghetto. Hail to a Free Palestine! "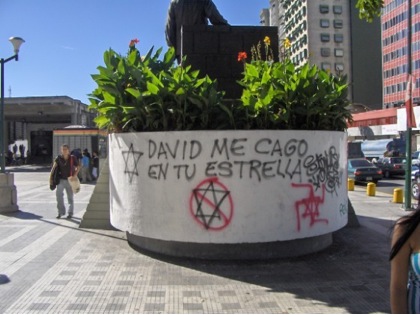 "David the hell with your star"