The death toll from Australia's worst ever recorded bushfires has reached 128, with more than 750 homes lost in the fires which swept through the southern state of Victoria.

Victoria's Country Fire Authority says it will focus on trying to contain fires over the next few days as conditions ease.

Several communities remain under threat from a 30,000 hectare fire is heading towards a number of towns in Victoria's north-east.
The Jewish community organisations here have begun mobilising for the enormous relief effort which needs to be undertaken.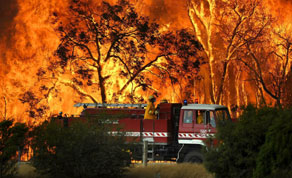 Below you will find details of phone numbers, times places, and things you can do to help.
Bushfires 2009 - Statement from Mizrachi organisation
Bushfires 2009 - Statement from Rabbinical Council of Victoria
Bushfires 2009 - Statement from Jewish Community Council of Victoria
Bushfires 2009 - Statement from the Rabbinical Council of Victoria call to Action / Prayer