Mumbai, Nov. 14: David Coleman Headley personally visited every target site of the 26/11 terror strikes last year, carrying out a recce on behalf of the Lashkar-e-Toiba, a police source said today.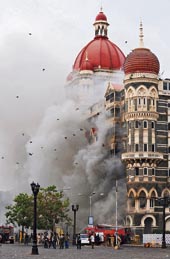 Posing as a Jew, he even visited Nariman House, the Jewish Chabad centre, in July 2008.
The Mumbai police today carried out raids in Bandra, its adjoining suburb Khar and BPO hub Goregaon in search of Headley's local acquaintances and contacts.
"He (Headley) mapped the Chhatrapati Shivaji terminus, Taj and Trident hotels and Nariman House. We are interrogating (filmmaker Mahesh Bhatt's son) Rahul to find out when he went to Leopold Café. That he did is certain — when he did that is what we need to know," a top officer said.
Headley had visited the Mumbai home of Rahul, who contacted police after learning of the terror suspect's arrest by America's Federal Burau of Investigation (FBI) last month.
The source said Headley, a Pakistani-born US national, and his associate Tahawwur Hussain Rana stayed in Hotel Outram, a seedy motel in Mumbai's Fort area, for about a fortnight in July 2008.
Born Daood Gilani, Headley, who changed his name and passport in 2006, posed as a Jewish American during his Mumbai stay. A source close to Rahul too confirmed that Headley had claimed to be a Jew.
"It is a mystery how he got into that building (Nariman House) just posing as a Jew. We are probing if he had anybody helping him locally. The FBI seized a book called How to Pray Like a Jew from him at the time of his arrest in Chicago. He had prepared himself thoroughly to pose as a Jew," the officer said.
This morning, the police detained two tourist guides near the Gateway of India for questioning. It is suspected they may have aided Headley or other 26/11 plotters.
"The lead for this came from the FBI," the officer acknowledged. "We now know most details about Headley's recce of the terror targets, but there is a bit of a problem in case of Trident hotel as much of its past records were destroyed in the 26/11 attack. But we are getting there and will soon have the information."
The investigators were always sure that Lashkar operatives had done a recce of both hotels. "The speed with which the Trident attackers moved around the lobby, visited the basement restaurant, Frangipani, and later headed straight for the lift to go to the 18th floor to set up their control room proves this," the officer said.
Between 2006 and 2009, Headley ran a firm called Immigration Law Centre out of Tardeo AC Market in south Mumbai with the help of a local Parsi woman. Late last night, officials of the federal National Investigating Agency, which has now joined the probe with Mumbai police, visited Headley's immigration firm.
"A lot of facts have emerged from the interrogation of his co-worker/partner at the firm. She has been very co-operative. We now know Headley rarely used mobile phones and computers; but he did have a Tata Indicom landline number that he used while operating this immigration business. His mobile number is also with us and is leading us to some of his local contacts/acquaintances," the source said.
Officially, Headley's job was to facilitate US and Canadian visas for semi-skilled and unskilled workers. The investigators are trying to find out whether he had any contacts in local consulates.
Headley preferred to pay salaries, or make other payments, in cash. He rarely used banking channels and spent limited time at the office —"hardly two hours in the morning and a couple of hours in the evening", the source said.
Original article is http://www.telegraphindia.com/1091115/jsp/nation/story_11742894.jsp