The Israelis and Turks, the Egyptians and Jordanians -- they're all beating a path to the Kremlin in the hope that Vladimir Putin, the new master of the Middle East, can secure their interests and fix their problems.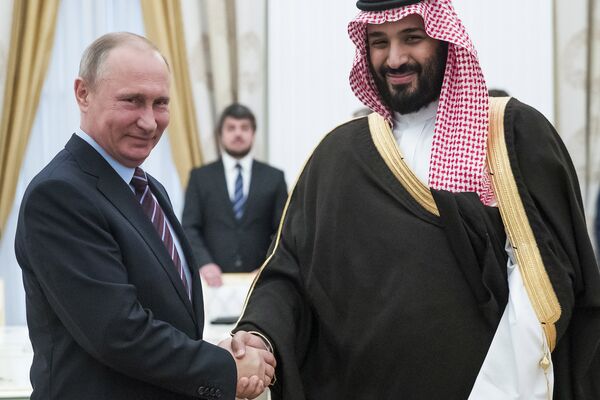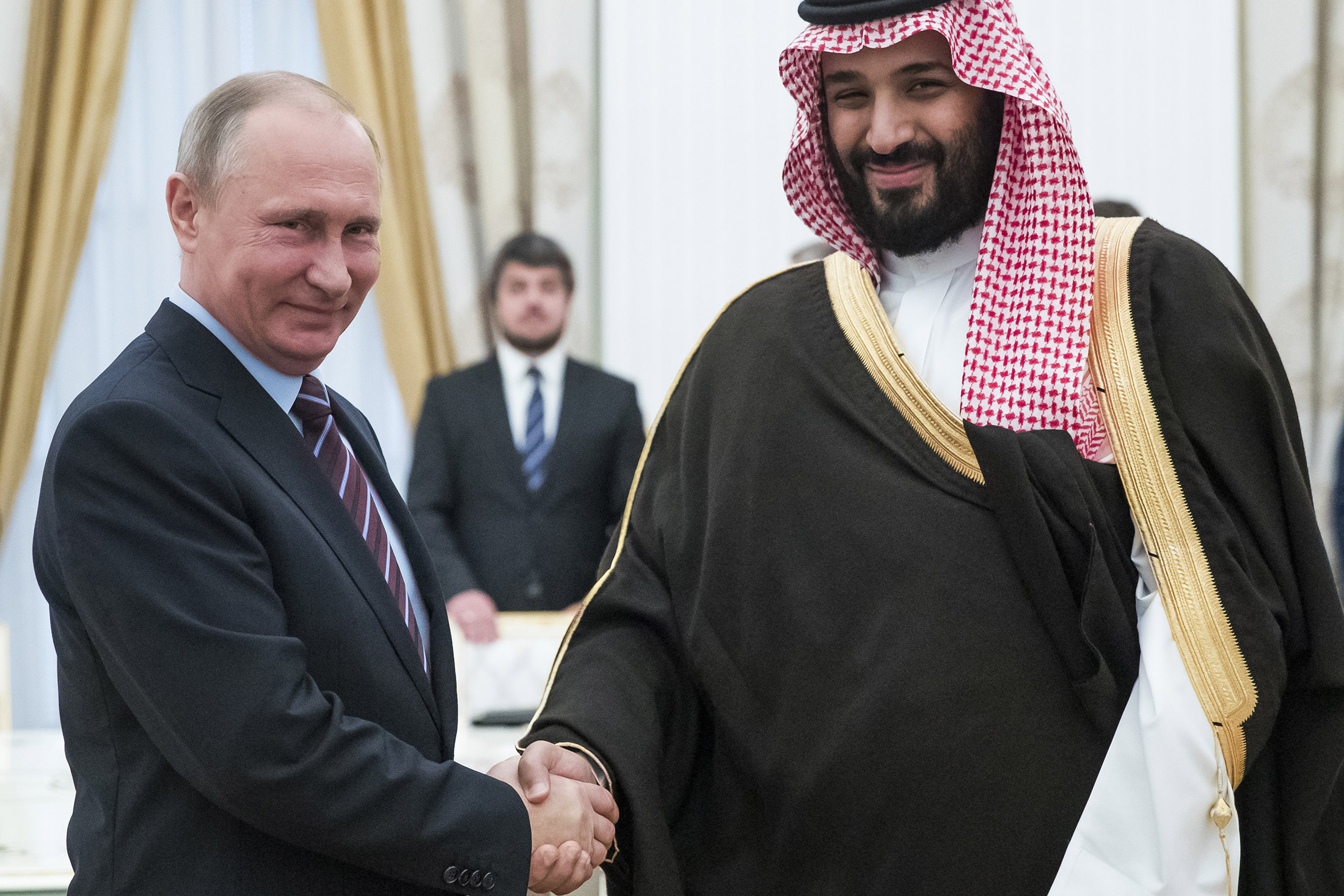 Photographer: Pavel Golovkin/AFP via Getty Images
The latest in line is Saudi King Salman, who on Wednesday is due to become the first monarch of the oil-rich kingdom to visit Moscow. At the top of his agenda will be reining in Iran, a close Russian ally seen as a deadly foe by most Gulf Arab states.
Until very recently, Washington stood alone as the go-to destination for such leaders. Right now, American power in the region is perceptibly in retreat -- testimony to the success of Russia's military intervention in Syria, which shored up President Bashar al-Assad after years of U.S. insistence that he must go.
"It changed the reality, the balance of power on the ground," said Dennis Ross, who was America's chief Mideast peace negotiator and advised several presidents from George H. W. Bush to Barack Obama. "Putin has succeeded in making Russia a factor in the Middle East. That's why you see a constant stream of Middle Eastern visitors going to Moscow."
Success brings its own problems. As conflicting demands pile up, it's not easy to send all those visitors home satisfied. "The more you try to adopt a position of dealing with all sides, the more you find that it's hard to play that game,'' Ross said.
Moscow was a major power in the Middle East during the Cold War, arming Arab states against Israel. Its influence collapsed along with communism. When the U.S. invaded Iraq to topple Saddam Hussein, Russia was a bystander, unable to do more than protest.
The tables began to turn in 2013, when the U.S. under Obama decided not to attack Assad. Two years later, Putin sent troops and planes to defend him.
Getting Results
For the most part, America's local allies were firmly in the Assad-must-go camp. They were disillusioned when U.S. military might wasn't deployed to force him out.
Russia's clout in the region has grown "because Obama allowed it to,'' said Khaled Batarfi, a professor at Alfaisal University's branch in Jeddah, Saudi Arabia. "Unfortunately he withdrew to a great extent from the Middle East.''
That view is widespread. It was bluntly expressed last month by Turkish President Recep Tayyip Erdogan, who spent years urging American action against Assad. Talks with the U.S. "couldn't get any results,'' he said.
Turkey has now joined Russia and Iran in a plan to de-escalate the conflict. It's "achieving a result,'' Erdogan said. Two years ago, tensions between Putin and Erdogan had threatened to boil over, after the Turkish military shot down a Russian jet on the Syrian border. Last Friday, the Russian president flew to Ankara for dinner with his Turkish counterpart and "friend,'' who's agreed to buy Russian S-400 air defense missile systems, riling fellow NATO members.
'Here's the King'
Meanwhile the Saudis, who had financed rebels fighting against Assad, are cooperating with Russia in coaxing the opposition to unite for peace talks – which will likely cement the Syrian leader in power.
America's Middle East allies mostly welcomed the change of U.S. president, and Donald Trump's tough talk about challenging Iran. So far, though, he's stuck close to his predecessor's policy in Syria, concentrating on fighting Islamic State not Assad.
So, as the goal of regime-change in Syria recedes, priorities have shifted. The Saudis and other Arab Gulf powers are urging Russia to reduce Iran's role in Syria, where Hezbollah and other Shiite militias supported by Tehran have provided shock troops for Assad's offensive.
"Russia is better off not to be on one side of it. That's the key message,'' said Abdulkhaleq Abdulla, a U.A.E.-based political analyst. "Here is the king, representing Arab Gulf countries, representing a lot of geopolitical weight, coming to Russia. And Russia has to take that into consideration.''
But Putin won't shift his stance on Iran to accommodate Saudi wishes, according to a person close to the Kremlin.
Israel's Prime Minister Benjamin Netanyahu, who has visited Russia four times in the past 18 months, has also found it hard to sway the Russian leader.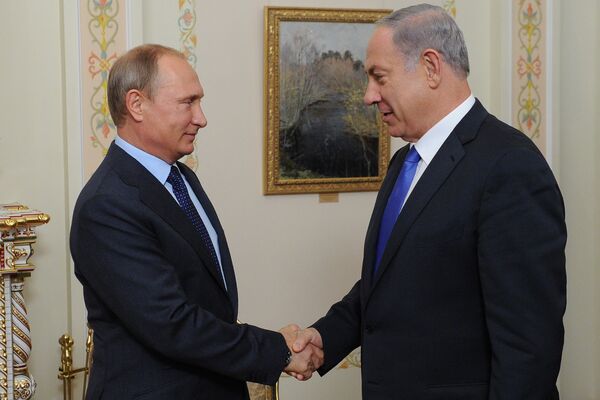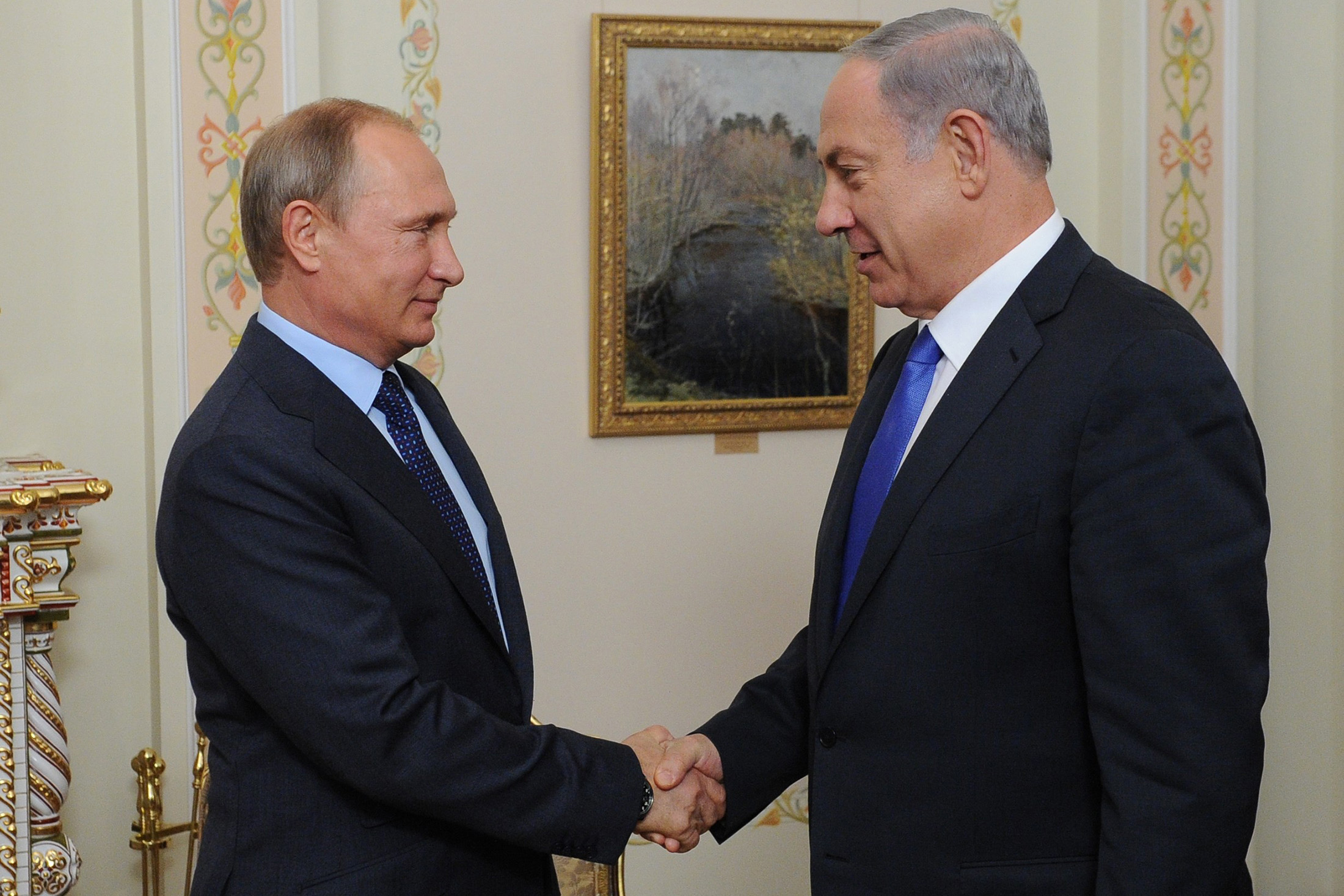 Photographer: Mikhail Klimentyev/AFP via Getty Images
In August, Netanyahu told Putin that Iran's growing foothold in Syria is "unacceptable.'' In September he told CNN that the Iranians are trying to "colonize'' Syria with the aim of "destroying us and conquering the Middle East.''
Russia, though, refused his demand for a buffer zone inside Syria that would keep the forces of Iran and Hezbollah at least 60 kilometers (37 miles) from the Israeli border, a person familiar with the matter in Moscow said. Instead, Russia offered a 5-kilometer exclusion zone, the person said.
Russia also rejected a U.S. demand to make the Euphrates river a dividing line between Syrian government troops and U.S.-supported forces in eastern Syria. This has led to a race to capture territory from retreating Islamic State fighters in a strategic and oil-rich border region.
Yet Russia has succeeded in keeping open channels of communication to all sides, from Iran to Saudi Arabia and the Palestinian radical Islamist group Hamas to Israel, said Ayham Kamel, Middle East and North Africa director at Eurasia Group.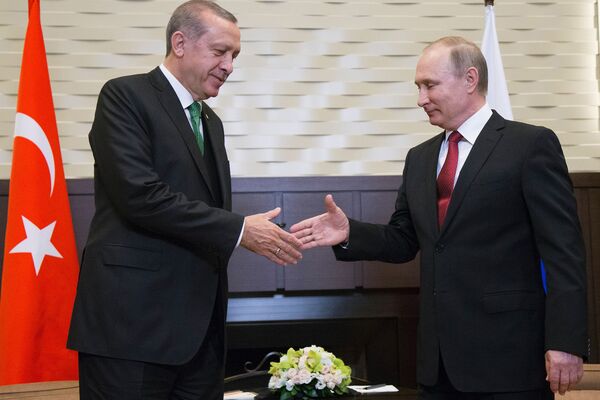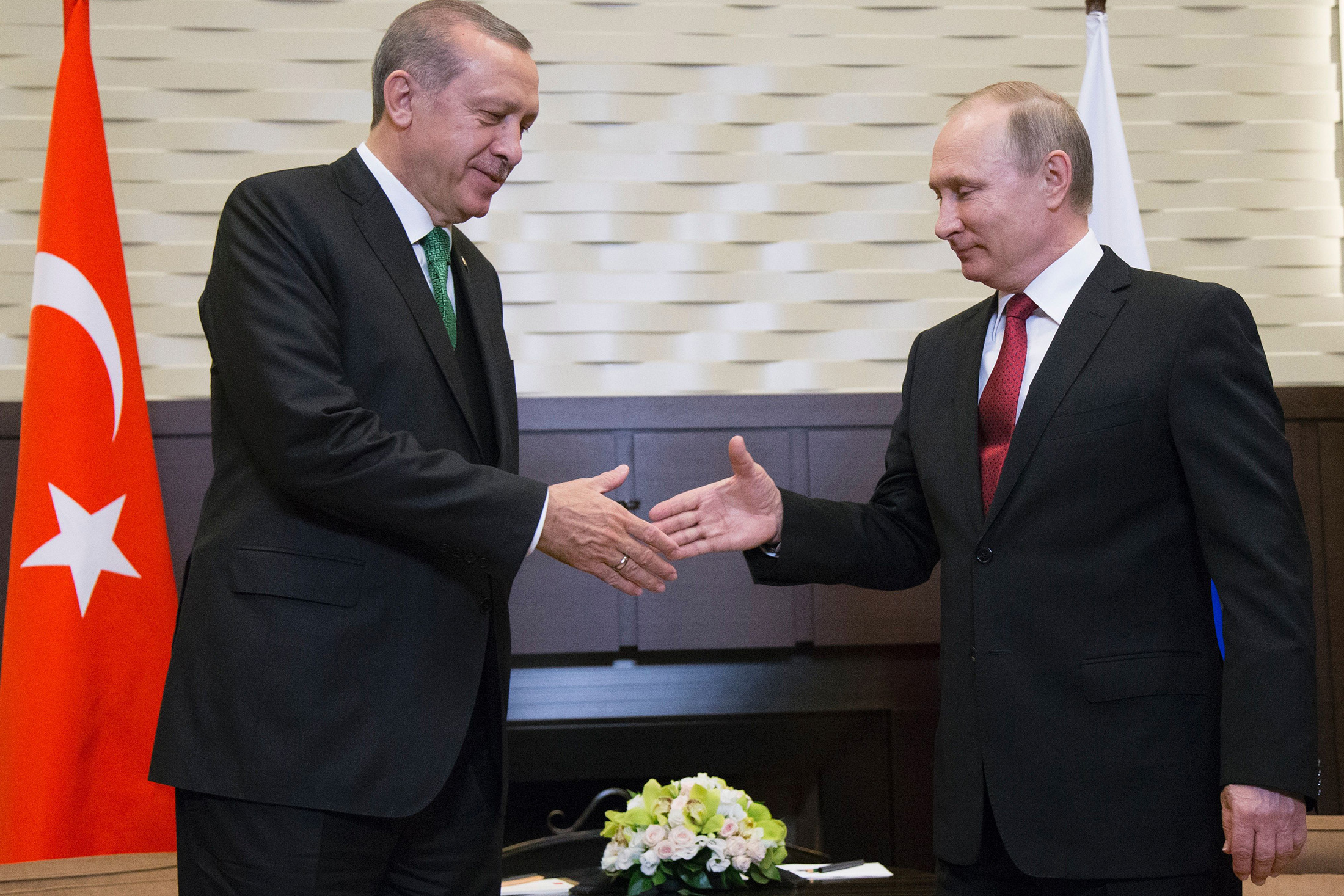 Photographer: Alexander Zemlianichenko/AFP via Getty Images
While Russia didn't give way on the buffer zone, it has a tacit understanding that permits Israel to carry out airstrikes against Hezbollah in Syria, said Andrey Kortunov, director general of the Russian International Affairs Council, a research group set up by the Kremlin.
It's been mediating, along with Egypt, to end the decade-old inter-Palestinian rift between Fatah in the West Bank and Hamas in Gaza. Putin invited rival Libyan factions to Moscow, after a series of peace efforts by other countries came to nothing. Russia has become a leading investor in oil-rich Iraqi Kurdistan, and was one of the few world powers to refrain from condemning its recent vote on independence.
In economic terms, the contest for influence looks like an unequal one - America's GDP is 13 times Russia's. That's not always the decisive factor, said Alexander Zotov, Moscow's ambassador to Syria from 1989 to 1994.
"Sometimes you have two boxers coming out to the ring, one is huge with bulging muscles and the other is smaller but nimble, and has a better technique,'' he said.
While economics are a limiting factor for Russia, Putin also enjoys several advantages over American presidents, according to Paul Salem, vice president of the Middle East Institute in Washington. He has no Congress to worry about, and no elections that he risks losing. Putin has been around for almost two decades, a long time in geopolitics, with "very consistent leadership, a consistent message," Salem said. "He says what he does, he does what he says."
Russia's rise came as U.S. policy makers grew preoccupied with Asia, and the American public tired of Middle East wars – something both Obama and Trump acknowledged.
"Washington remains the indispensable power in the region,'' said Eurasia's Kamel. But its commitment to traditional alliances is weakening, he said, and that's encouraged regional leaders to hedge their bets. "The Kremlin is on everyone's mind.''