The University of Sydney has moved to sack controversial senior lecturer Tim Anderson after he showed students material featuring the Nazi swastika imposed over the flag of Israel.
Dr Anderson attracted criticism from federal education ministers for his numerous trips to Syria and North Korea, where he expressed solidarity with their dictatorial regimes and condemned Western imperialism and the United States.
He regularly posted on social media about the crimes of the "apartheid" Israeli state, and complained the mainstream media was complicit in distorting the narrative about Israel and Palestine.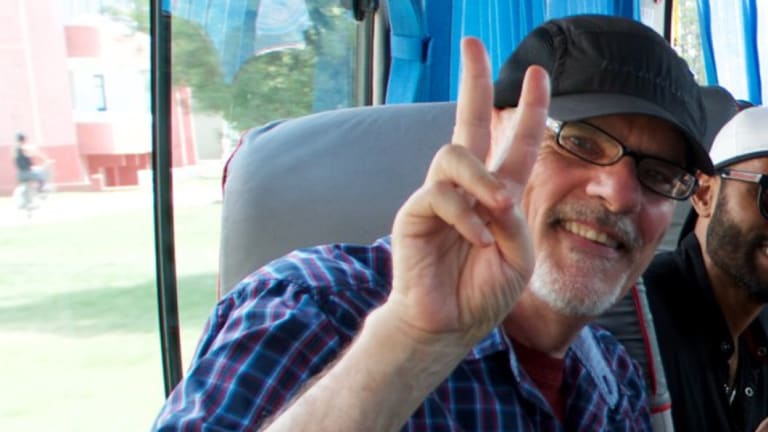 Sydney University lecturer Tim Anderson.Credit:Facebook
A spokeswoman for the university confirmed Dr Anderson had been served a termination notice as he had engaged in "serious misconduct".
Dr Anderson had published on social media and in lecture slides "material which included the Nazi Swastika over the Israeli flag," the spokeswoman said, and this was found to be "disrespectful and offensive, and contrary to the university's behavioural expectations and requirements for all staff".
The University of Sydney has given Dr Anderson a week to show why he should not be sacked. He has been suspended and banned from entering the university in the meantime.
In a Facebook post, Dr Anderson accused his employer of "political censorship", and said he is appealing the decision to fire him. He dismissed the numerous complaints levelled against him over the past two years as "petty and absurd".
"This move is the culmination of a series of failed attempts by management to restrict my public comments," Dr Anderson wrote. "I have always rejected such censorship."
Sydney University provost and acting vice-chancellor Stephen Garton rejected Dr Anderson's accusations of political censorship.
"The university has, since its inception, supported and encouraged its staff to engage in public debate and it has always accepted that those views might be controversial," Professor Garton said.
"Our academic staff can and often do disagree with one another publicly. In fact, the process of doing so is part of the academic process.
"The university has and will continue to defend academic staff to express unpopular views as part of their teaching and research, so long as they fulfil their obligations to engage in that debate in a civil manner."
A lifetime radical, Dr Anderson was convicted but later acquitted of the 1978 Hilton Hotel bombing in Sydney.
He also founded the Centre for Counter-Hegemonic Studies, a network of like-minded academics who disparage Western imperialism and claim to be the victim of censorship at their respective universities.
Dr Anderson recently defended a former colleague for wearing a badge proclaiming "death to Israel".
Former education minister Simon Birmingham has described Dr Anderson as "an embarrassment to academia".